Mariam Safdar, beneficial owner of two offshore companies
https://www.documentcloud.org/documents/2781439-Sharif-familydoc1.html
https://assets.documentcloud.org/documents/2781439/Sharif-familydoc1.pdf
Mortgage signed by Mariam and Hussain Sharif
https://www.documentcloud.org/documents/2779712-Sharif-familydoc2.html
https://assets.documentcloud.org/documents/2779712/Sharif-familydoc2.pdf
Company transferred shares were worth £5.5 millions to Hasan Sharif
https://www.documentcloud.org/documents/2771796-Sharif-familydoc5.html
https://assets.documentcloud.org/documents/2771796/Sharif-familydoc5.pdf
While the Pakistani media had connected some of these BVI companies and London properties to the Sharif family in the past, Nawaz Sharif has denied ownership of any such property. Hussain and Hasan Nawaz Sharif, and Mariam Safdar, did not respond to queries emailed to them by The Indian Express.
Read |
#PanamaPapersIndia Part 1: Clients who knocked on a Panama door
Nescol Limited and Nielson Holdings Limited were incorporated in BVI in 1993 and 1994, respectively, and were held by one bearer share each. In February 2006, Mariam Safdar signed a resolution of Nescol Limited as the "sole (bearer) shareholder". MF was appointed as the registered agent through Minerva Trust which described Mariam Safdar as the beneficial owner of both companies.
Also from Pakistan:
In oil-for-food shadow, Benazir Bhutto set up a firm too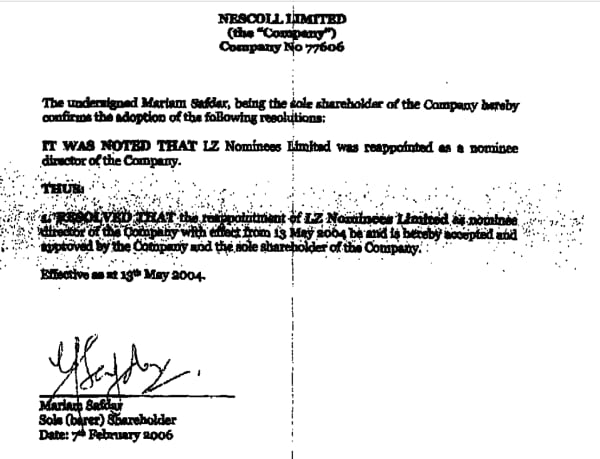 In August 2008, BVI law firm Farara Kerins issued two legal opinions. As Nescol's property, it identified "leasehold properties known as 17… and 17A Avenfield House, 117 to 128 Park Lane, London, W1K 7AH and car parking space 9 and box room 6… registered… with Title Numbers NGL342976 and NGL342977 respectively". As Nielson's property, it identified two titles of 16 and 16A Avenfield House.
- See more at:
http://indianexpress.com/article/world/world-news/nawaz-sharif-family-properties-panama-papers/#sthash.PVHs7H0O.dpuf
Following queries from the Financial Investigation Agency in 2012, MF invoked the Anti-Money Laundering and Terrorist Financing Code of Practice (2008) to grill Minerva for information about Nescol and Nielson. In June 2012, Minerva Trust & Corporate Services Ltd revealed that both companies "owned a UK proper each" —16 and 17 Avenfield House —and were "owned by the same beneficial owner Mariam Safdar". Read | Karnal to London via Bahamas, the route Indiabulls promoter took Adding that the companies had a loan account with Deutsche Bank Geneva, Minerva said that "neither property is rented and only occupied by the owner and her family." MF passed on the details to FIA. But assured by Minerva that they were aware of the client's Politically Exposed Person (PEP) status, MF ordered compliance monitoring every six months and decided not to provide nominee (proxy) directors or shareholders for Mariam's companies. Read | Full Coverage: Panama Papers Hasan, Nawaz Sharif's younger son, also owned at least one company in BVI. Hangon Properties Holding Limited was incorporated in BVI in February 2007 with an authorised capital of US$ 50,000. In June 2007, 10 shares were issued to Cascon Holdings Establishment Limited (Liberia). The next month, the shares were transferred to Hasan Nawaz Sharif for GBP 5.5 million and the Bank of Scotland sanctioned a mortgage loan of unknown amount to Hangon "to assist in the purchase of the property (Flat Nos 3 and 4 ) at 1 Hyde Park Place, London." Read | Vladimir Putin's secret money network In August 2007, MF was told that Hasan had purchased the issued share capital in Hangon from Cascon Holdings (Liberia). Asked to take a call by MF's compliance department in October 2007, Jurgen Mossack wrote: "Si, correcto. NO aceptar el cliente en forma directa, por mi parte (Yes, correct. As far as I'm concerned, DON'T accept the client directly)." - See more at:
http://indianexpress.com/article/world/world-news/nawaz-sharif-family-properties-panama-papers/#sthash.PVHs7H0O.dpuf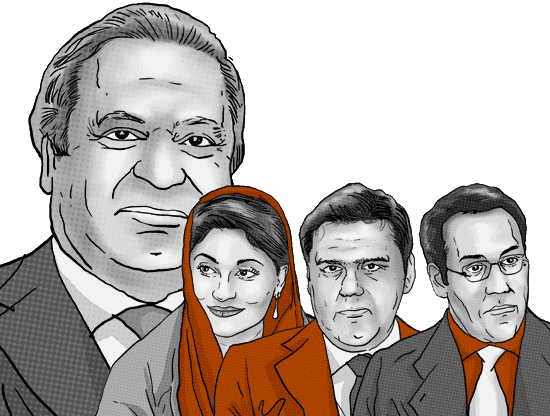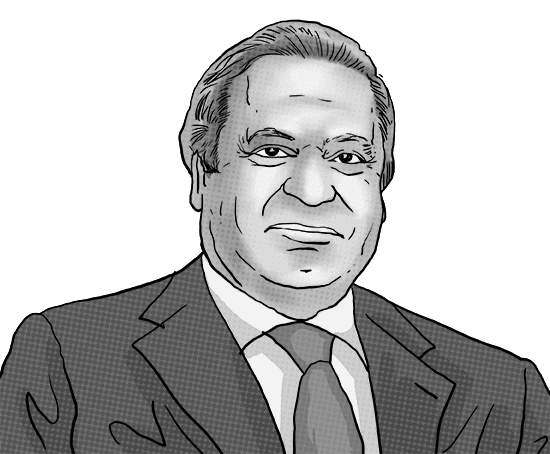 Nawaz Sharif
Prime Minister of Pakistan (1990-1993) (1997-1999) (2013-present)
Relatives in the data: Mariam Safdar, Hasan and Hussain Nawaz Sharif
Related countries
Mariam Safdar, Daughter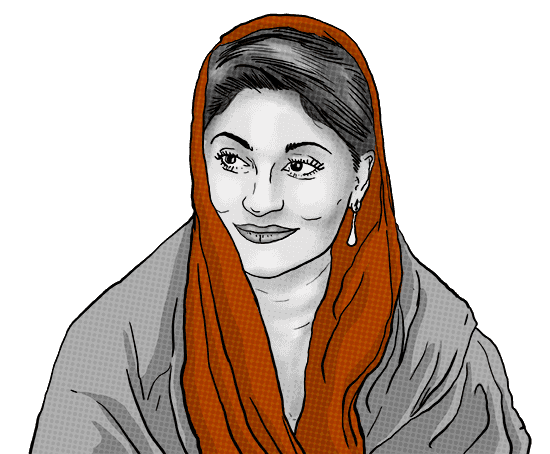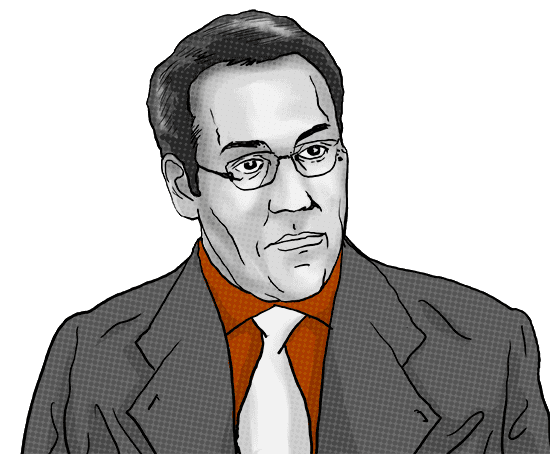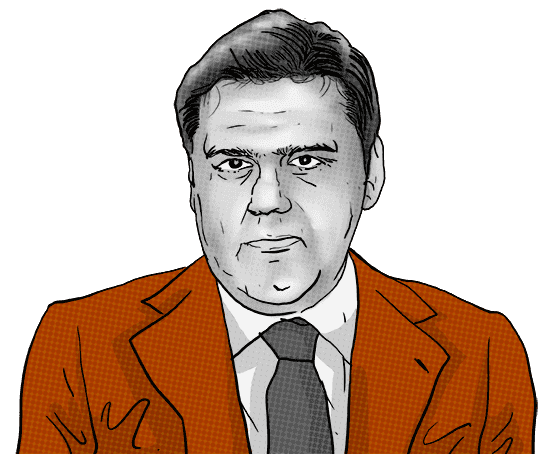 Controversy has long engulfed Pakistan Prime Minister Nawaz Sharif's family, including three of his four children – Mariam, Hasan and Hussain – over their riches from a network of businesses that include steel, sugar and paper mills and extensive international property holdings. At various times, depending on the political party in power, the Sharifs – one of Pakistan's richest families – have been accused of corruption, ownership of illegal assets, tax avoidance and money laundering. Mariam, Hussain and their father have been detained on such charges, exiled to Saudi Arabia and also acquitted. When allegations first surfaced in 2000, a family member called them "completely wrong," and declared: "This is a very religious family." Hasan, who moved to London over 16 years ago, and Hussain have been running family businesses from abroad. Mariam reportedly is being groomed to take over leadership of her father's political party.